DriveAudio Fits Honda CRV (2012-Onwards) Sat/Nav, Bluetooth, DVD, CD, USB, FM, touchscreen, steering wheel control ready headunit. Apple CarPlay & reversing camera as an optional extra.

Introduction

DriveAudio products provide an OE style connector where possible, meaning plug and play. Some additional items will be required to be fitted like a GPS antenna and DAB areal if your original unit did not have Dab at factory. If your old unit had DAB then you have a DAB OE areal and all you need in that case is a small conversion lead. The units are designed for the UK market so all trims and clips represent a perfect replacement for the Left Hand Drive Cars. We have a network of Installers who are happy to undertake your install if you do not feel confident in fitting it yourself.

Canbus is integrated directly on to the main motherboard and not an illuminated add on Canbus analogue box. Our units have full canbus and resistive controls preprogramed on each unit to offer full integration. All our units have the very latest ARM11 Chipset offering speed and reliability. Fast boot up and Clear touch Screen.

Key Functions


Navigation

3D Graphical Maps of UK and Ireland, European maps can be purchased at a small charge. The Map licence is owned via the customer and the customer's responsibility to update their maps via the mapping vendor's website. 12 months free updates are provided with the product. 7 Digit postcodes and 13,000 POI's. Speed camera Database is also added to the mapping software. The Maps are supplied and managed by Navtq a leading worldwide supplier of commercial mapping service.

CD/DVD

The DVD loader offering a Clear 800x480 screen resolution. The DVD Rom is quick at loading and can play many different forms of media. All our DVD Roms are region free and you can by-pass the Movie in Motion so that the DVD Player works on the move. This function is used at the driver's discretion. Using Video media when driving is illegal in many countries.

Radio AM/FM

The AM/FM Radio Chipset is manufactured by Philips and is as good as it gets. The reception is strong (Local signal dependent) and has full RDS Text that's presented on screen. TA – Traffic announcements, AF assisted search facility – looks for a stronger station. REG and Local are also present within the Radio functions. You can store 12 pre-set stations in FM and 4 preset stations in AM. Local Scan and Regional Seek are also designed for driver ease of use.

Bluetooth

A Bluetooth interface offers Contact listings, as well as History, like Received and missed calls. Voice Activated Phonebook where advertised. Clear and consist modulation which is enhanced via the units advanced DSP audio chipset. In some cases you can also make use of the cars original Mic.

A2DP

With A2DP you will be able to wirelessly transfer Stereo Audio through the cars speakers using this method. You can FF, RW, Pause and play via the head unit interface. The device is also being charged via the head unit.





Voice Activation

With the advanced Voice Activation software loaded to the unit, it will enable you to select each function via voice keeping your hands free to concentrate on the road ahead. If you receive an incoming call, you have three options to except the call or reject it, simply say "Except or Reject" or via the steering controls (If fitted) or even from the units Touch Screen.

Using Voice control to control the functions within the unit has never been easier, simply press the voice button either via the head unit or if fitted via your steering controls and say, "for example" DVD, or, Radio or any other function, and the program will switch.





Media Files

The "Files" function will allow you to quickly view your music, films, pictures and more via this function. Select MP3 playback and add, or delete files via this method. Transfer songs, photos, videos among SD card,

USB Flash. Supports a maximum storage capacity of 64GB via (SD card & USB Flash) uses USB 1.0 and 2.0 protocol

IPhone and IPod

Supports iPod (Classic, Nano & Shuffle) connection, works with iPhone 3G, 4S and iTouch

39 Pin Apple connector is included to allow charging. IPhone 5 compatible with the use of an Apple approved Lightning Bolt adaptor.

MFD

The unit is able to offer information on the cars MFD (Multifunctional Display) like Radio names, Volume controls, and other informative information, although this function can be restricted depending on your type of car. The MFD is displayed mainly on the small informant screen above the driver's steering wheel. (Option only available on some makes of cars)

Dual Zone Entertainment

When the Navigation system is active you can transfer the Video feed from the front of the unit to any additional in car entertainment products such as rear headrest monitors.

Dual control allows you to control the video format to the rear, such as DVD, TV, and operate each unit separately, left channel feed and right channel feed.

DSP Audio

Our units have an advanced built-in DSP (Digital Sound Processor) to ensure you get the maximum audio quality out of your cars speakers. Sub-woofer out puts, to include in most cases AMP on, Centre Speaker alignment and 10 band graphic equaliser.

5.1 Surround Sound

The unit takes full advantage of your cars speakers by converting analogue stereo channel audio into a simulated 5.1 surround sound. This feature works exceedingly well when playing DVD Movies that offer 5.1 Digital decoding. The audio is then enhanced even further by the DSP Digital output.

Panoramic Parking

If your car has Visual Parking Aid then our units are equipped with special software to allow the Parking sensors to be displayed on the screen – please not this function is not available on all car brands,

Hardware:

CPU: SiRF Prima 600Mhz CPU, Advanced ARM 11 architecture 300M Hz DSP,

DDR RAM: 128MB (to 256MB) DDR-400MHz RAM

4GB built in memory – Internal Flash memory.

2 USB Ports: available to be used with a USB Mobile Hard Drive ( exFAT no capacity limit), AND/OR a High-Speed USB 2.0: 480Mbps High Speed USB 2.0 Interface – Fast and mobile. Storage Card: 4GB SD card as standard, mainly used for maps, Expandable up to 32GB
Mapping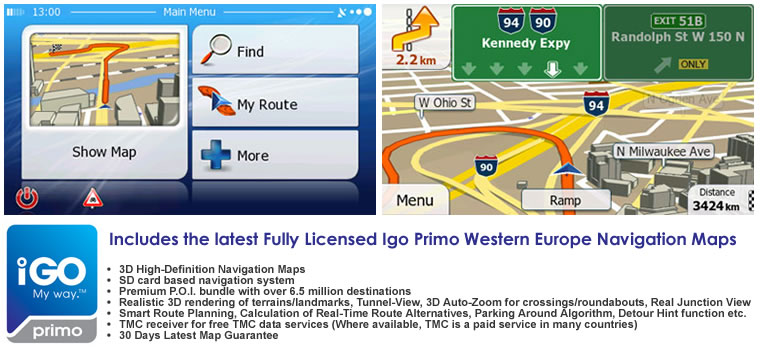 The DriveAudio Mazda 6 includes as standard the very latest IGO Primo 3D, UK/EIRE & Western European full postcode Navigation Software.
Hardware:
CPU: SiRF Prima 600Mhz CPU, Advanced ARM 11 architecture 300M Hz DSP,
DDR RAM: 128MB (to 256MB) DDR-400MHz RAM
4GB built in memory – Internal Flash memory.
2 USB Ports: available to be used with a USB Mobile Hard Drive ( exFAT no capacity limit), AND/OR a High-Speed USB 2.0: 480Mbps High Speed USB 2.0 Interface – Fast and mobile. Storage Card: 4GB SD card as standard, mainly used for maps, Expandable up to 32GB
OPTIONAL EXTRAS;
Apple CarPlay is a modern and safe way to use the iPhone in the car.
Apple CarPlay displays on the display of the car all the necessary driver iPhone features. Get directions, call, send and receive messages, listen to music – all this can be done without being distracted from the road.
Just connect your iPhone and hit the road.
Compatible with;
iPhone 5, iPhone 5S, iPhone 5C, iPhone SE, iPhone 6, iPhone 6 Plus, iPhone 6S, iPhone 6S Plus, iPhone 7, iPhone 7 Plus, iPhone 8, iPhone 8 Plus & iPhone X.
Default iPhone apps on CarPlay:
Phone
Music
Maps
Messages
Now Playing
Podcasts
Third-party apps compatible with CarPlay:
WhatsApp
Spotify
Amazon Music
Google Play Music
iPlayer Radio
CBS Radio
Pandora
Slacker Radio
Tidal
Audible
NPR One
VOX
Clammr
Downcast
Google Maps (coming with iOS 12)
Waze (coming with iOS 12)
Here (coming with iOS 12)
The Benefits of having Apple CarPlay in your Car
Less distractions whilst driving
You've probably already had your iPhone placed on your dashboard, windscreen or in-car cradle, yet you can quite easily become distracted by certain apps or alerts coming into your phone whilst on the move.
With CarPlay and it's limited selection of apps, alerts are kept to a minimum, leaving you less distracted and able to concentrate on the road more, which is quite important when you're on the move.
Big screen, Car Friendly Experience
A factory fitted CarPlay stereo or aftermarket system can be almost twice as big as your iPhone. CarPlay also has its own layout, with easy to select buttons and interfaces, whilst smaller/unnecessary features are removed to keep the experience clean whilst removing the ability to miss-hit buttons.
This means you can glance and get the information you need, whilst reducing the time required to press and navigate through your favourite apps on the large touchscreen display.
Siri in Your Car
Once connected to your car system, Siri is just a button press (or a 'Hey, Siri') away from giving you the latest updates and personal information whilst you're on the move.
Receive reminders entering/exiting your vehicle
Want to be reminded when you get into or exit from your vehicle? With CarPlay, your device knows when you're in your car, and when teamed with location based reminders and an active calendar, you will be reminded as soon as you 'plug in' to your vehicle. In Apple's Maps CarPlay app you'll be instantly asked if you're going to work, or heading home, based on your calendar events and tracked frequent moments. This means there is less time spent plot your navigation route whilst in the car, simply just hit the Start button and you're off!
Built-in Sat Nav – updated, regular, traffic and more!
You may not already have a satalite-navigation system in your vehicle, or you have a dedicated sat-nav with over a decade old maps data pre-installed; or perhaps you always relied upon your iPhone for navigation. With CarPlay, and its larger screen, you get the best display to view your route, allwhist audio is played through your in-car speakers, no missed turns whilst your in-car radio and iPhone battle for your attention.
Maps on your phone is constantly being updated too, along with real-time traffic data, and the new 9.3 feature with regular points of interest, not to mention being partnered with Siri and its search function, you can find the nearest coffee shop on route to work without pressing a single button.
Dictate text messages
If you have the urge to message someone whilst at the wheel, with Siri integration you can dictate your message more clearly using a dedicated in-car microphone that is connected to the CarPlay receiver. No missed or misinterpreted messages – hopefully!
You can also have your messaged read back to you over your in-car stereo system.
Stream your music live to your car stereo
If your vehicle isn't already connected to your in-car stereo, you have multiple possibilities of streaming your favourite international radio stations whilst on the move. Expand your listening, from a handful of local and national FM radio stations to the hundreds of thousands streaming live across the world – mobile data required.
Get live scores, weather and more
Want to know who won the last match or what the weather will be like at your final destination? Simple ask Siri whilst on the move – no distractions or quickly finding out whilst waiting at the lights!
Controls at your finger-tips
There's nothing better than to control your iPhone's features straight from the wheel of your car. With the correct wiring from your installer or if your fitted CarPlay stereo has wheel controls, you can quickly navigate though CarPlay apps or talk to Siri with a simple button press on the wheel – No reaching over whilst driving and losing sight on the road ahead.
Teamed up with the 'Hey Siri' function, you don't even have to lift a finger to talk to your own personal virtual assistant.
Default iPhone apps on CarPlay:
Phone
Music
Maps
Messages
Now Playing
Podcasts
Third-party apps compatible with CarPlay:
WhatsApp
Spotify
Amazon Music
Google Play Music
iPlayer Radio
CBS Radio
Pandora
Slacker Radio
Tidal
Audible
NPR One
VOX
Clammr
Downcast
Google Maps (coming with iOS 12)
Waze (coming with iOS 12)
Here (coming with iOS 12)
Reversing Camera Optional;
DriveAudio Honda CRV fits (2012 -2014) reversing camera.
FEATURES;

CMOS Camera
160° Wide Angle Lens
Waterproof
Description:

This camera is a custom reversing camera designed specially for use with Honda CRV (2012 / 2014), Jade and Accord Crosstour. (Please check the dimensions or part number of your original car license plate light and compare with the information / pictures on this listing before purchasing to confirm compatibility). Its unique design means that no holes need to be drilled. This camera will simply replace your existing rear license plate light cover, integrating seamlessly with the existing bulb.
This camera is compatible with any aftermarket car head unit with a video input. If your aftermarket head unit has a dedicated camera input then the camera can be set up so that the rear-view image can be automatically displayed as soon as the car is put into reverse.
Please note this unit may not compatible with factory fitted head unit. requires RCA connection.
•160° wide viewing angle for a better view of the blind spot behind, thus avoiding the unexpected risks.
•Waterproof and dustproof design enable this reversing camera work in a good condition and extend the working service of it.
•Color CM0S images sensor
•Easy Install with the provided video input cable and power connector
Size: 68mm length x 37mm width
Accessories Included:
1 X Video Cable
1 X Power Cable
1 X Sticker