Will fit Ford Focus (2006-2011), Galaxy (2006-2011), S-Max (2006-2014) & Mondeo (2006-2014).
The new Dynavin N7 range has an extensive and comprehensive list of features giving the user everything they could possibly need.
Power Output: 4 x 50 W High Power Amplifier
High Grade Audiophile Design:
SD Card: Video Playback
2 RCA Pre-Outs (4V) and 1 AV Output
2 Pre-Ins (Front / Rear) Ready
AUX-Input: 1 AV Input
Steering Wheel Control Ready
Auto Dimmer
Power Antenna Output
Amplifier Remote Turn-On Output
Audio Interrupt
Camera Guide Line Adjustment
Dual Zone Control

New interface design.
Anti-glare Active screen.
Mirror link for Android & Apple smart phone users.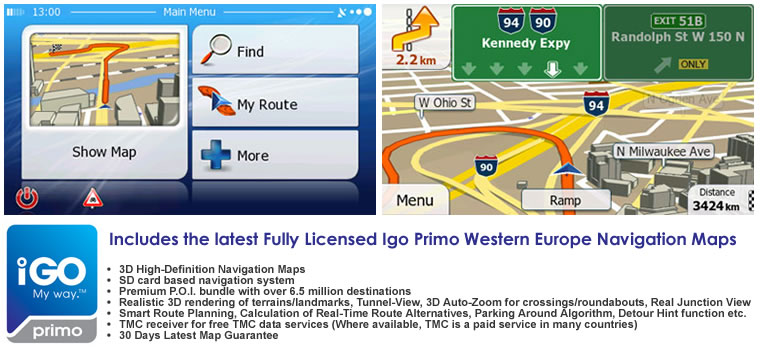 The N7 is the most technically advanced unit available for your car. The software of the N7 can be upgraded and new versions are periodically released and are available for free download. This system will be pre-loaded with the very latest system firmware available at the time of purchase.
Installation of the N7 is plug-and-play and the system will fit seamlessly into your car and blend in with your dashboard as if the unit had been fitted at the factory.
The N7 includes as standard the very latest Full European Igo Primo 3D Navigation Software.
All Dynavin units come with a 12 month warranty and full technical support at any point if required.
With the DynOS In-car multimedia player its easy to find your favorite songs. Audio files can be sorted by artist, album, song, or folder. A quick-search onscreen keyboard makes jumping to different places in your music collection easy. Thanks to USB 2.0, everything is quick. Scrolling through your playlists and music collection on the touchscreen is as smooth and easy as on a mobile phone.

Running an advanced audio DSP, DynOS enables you to perfectly adjust the audio multiple ways with an adjustable EQ, individual channel delay settings (time alignment), and independent source volume controls.

In dash integration is better than ever with screen brightness controls that can be manually set, controlled by the headlight settings, or automatically dimmed via an ambient light sensor. Various other advanced vehicle integration features are also available depending on the specific vehicle application.

In addition, DynOS makes updating easy. Software updates, improved features, etc… are easily loaded into the unit allowing you to keep your unit up to date and allowing Dynavin to make improvements and add features over time.

---

Smartphone Ready
The Dynavin N7 can connect directly to your iPod, iPhone, iPad for music via USB and it will display artist, album, song, and album art on the Dynavin's touchscreen. A wired USB connection provides direct digital signal transfer from your device for clean, clear sound all while keeping your device charged. Simple, intuitive search tools help you find your content faster. Android smartphones can connect via Bluetooth and display artist, album, and song but not album art.

Dual Radio Tuner

The Dynavin uses an FM phase diversity circuit, processing the signals of the dual antennas built into the vehicle. DSP algorithms create a noise and distortion free FM signal by merging both radio signals into a single new audio stream. Allowing for optimal radio reception even under the most challenging conditions.

Parrot Bluetooth

Bluetooth Plus gives you hands-free phone operation plus many other convenient functions like easy alphabetical phonebook search, hold and switch incoming calls, battery and mobile reception level indicators, plus advanced audio streaming while displaying song, artist and tag information. Compatible with any smartphone.

iGo Primo Navigation– included (Western Europe)

Dynavin N7 features a built-in navigation system with simple destination input, turn-by-turn voice prompts, and selectable route guidance – everything you need to reach your destination quickly and efficiently. Pre-loaded with rich points of interest, its database includes national parks, restaurants, petrol stations, and much more. Furthermore, Dynavin offers 30 days FREE updating on the maps after the first use. Visit www.naviextras.com to update.

4V Preout

High powered 4 Volt Preamp Outputs ensures ultra clean signal transmission from the Dynavin to aftermarket amplifiers. When properly gain matched these high voltage RCAs virtually eliminate noise and distortion, even at high volume levels.

DSP Sound Integration

Dynavin N7 head units use high-resolution Burr Brown 24-Bit Digital to Analogue conversion allowing for clean, accurate, stunning sound reproduction.

Android Link
Use Android Link to see and control your compatible Android device from your Dynavin's touchscreen. Combine Android Link with the Android Auto phone app for a simplified interface, large buttons, and voice commands designed to make it easier to use apps from your phone while on the road.

Capacitive Anti-glare Touchscreen
View your Media and Navigation on a clear, high resolution display. A capacitive anti-glare touchscreen gives you precise fingertip control and superior visibility in all lighting conditions.