Dynavin N7-PS for Porsche Boxster/Carrera/911/997/987/Cayman (2005-2012) Sat/Nav, Bluetooth, DVD, CD, USB, FM & DAB Headunit.
FITS Porsche Boxster 2005-2012
Porsche Cayman 2005>2012
Porsche 911 2005>2012
Porsche Carrera 2005>2012
If you have BOSE upgraded speakers you will require N7-MOST adaptor (Included in the kit).
The new Dynavin N7-PS is a plug-and-play head unit for upgrading your factory installed system, featuring a high definition touch-screen interface.
The new N7 product range is the very latest offering from Dynavin and offers more features and better OEM integration than any car head unit ever produced before.
The N7-PS has all the benefits and latest features found on the leading aftermarket head units, which many factory-fitted alternatives do not have despite their high price tags. With its vehicle specific factory-fit design, the N7-PS offers aesthetic benefits and a level of integration with the vehicles original controls/systems as standard, something not found on any other type of car head unit.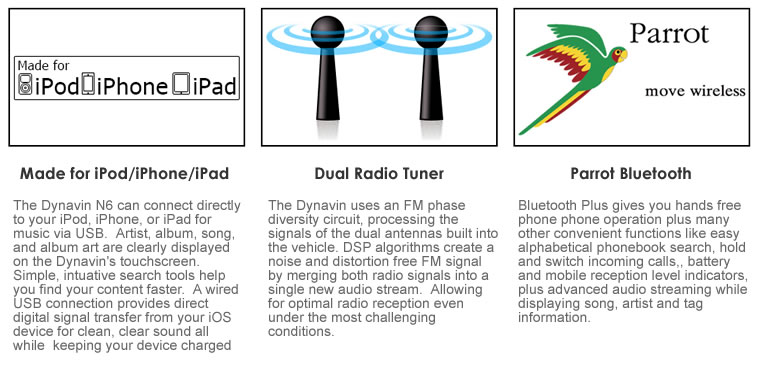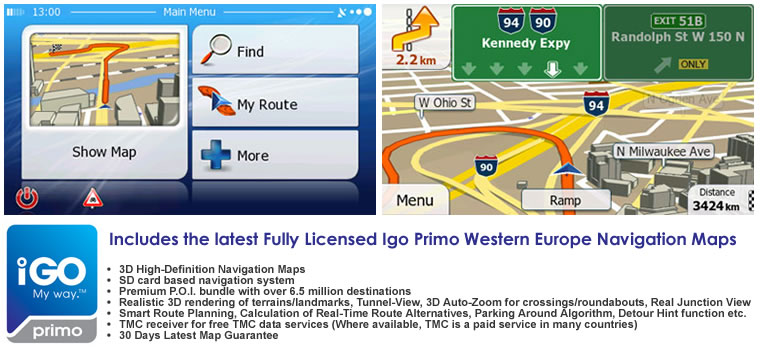 The N7-PS is the most technically advanced unit available for your Porsche Boxster (2006-2008), Porsche Cayman (2005-2008), Porsche 911 (2006-2008) and Porsche Carrera (2006-2008). The software of the N6-PS can be upgraded and new versions are periodically released and are available for free download. This system will be pre-loaded with the very latest system firmware available at the time of purchase.
Installation of the N7-PS is plug-and-play and the system will fit seamlessly into your car and blend in with your dashboard as if the unit had been fitted at the factory.
The N7-PS includes as standard the very latest Full European Igo Primo 3D Navigation Software.
A full selection of upgrades is available for the N7-PS which include Digital HD Freeview TV Tuner (DVB-T), DAB+ Digital Radio, and Reversing Camera. Please see our online store for more information on these add-ons.
All Dynavin units come with a 12 month warranty and full technical support at any point if required.

PLEASE NOTE limitations on the Dynavin N7-PS Headunit:
a)If you have a factory Porsche CD Multi changer – This will be made redundant.
b) If you had Porsche factory fitted Sat/Nav, the MFD instrument speedo panel directional navigation instructions/icons will not appear on this unit.
c) If you have Porsche factory parking sensors they will not appear on the Dynavin Sat/Nav screen. However they will still make an audible proximity alert sound.


Dynavin N7 Platform
DynOS is the exclusive new operating system developed by Dynavin. Designed from the ground up as an in-car multimedia entertainment system, every effort has been made to optimize the system for the mobile environment.
With the DynOS In-car multimedia player its easy to find your favorite songs. Audio files can be sorted by artist, album, song, or folder. A quick-search onscreen keyboard makes jumping to different places in your music collection easy. Thanks to USB 2.0, everything is quick. Scrolling through your playlists and music collection on the touchscreen is as smooth and easy as on a mobile phone.
Running an advanced audio DSP, DynOS enables you to perfectly adjust the audio multiple ways with an adjustable EQ, individual channel delay settings (time alignment), and independent source volume controls.
In dash integration is better than ever with screen brightness controls that can be manually set, controlled by the headlight settings, or automatically dimmed via an ambient light sensor. Various other advanced vehicle integration features are also available depending on the specific vehicle application.
In addition, DynOS makes updating easy. Software updates, improved features, etc... are easily loaded into the unit allowing you to keep your unit up to date and allowing Dynavin to make improvements and add features over time.

WILL THIS WORK IN MY PORSCHE?
The Dynavin N6-PS is designed to fit Porsche Boxster (2006-2008), Porsche Cayman (2005-2008), Porsche 911 (2006-2008) and Porsche Carrera (2006-2008) vehicles. It will fit any model variant of these vehicles as the dash/stereo shape and size is the same across all vehicle options.
If your stereo has the BOSE audio system which features a fibre-optic MOST amplifier, then you will also require N6-MOST adapter to provide integration with your original audio system. The majority of Porsche vehicles have this upgraded sound system and will require the N6-MOST adapter. The N6-MOST adapter is supplied as standard with the Dynavin N6-PS.

THE DYNAVIN N6-PS IS DESIGNED TO REPLACE THE FOLLOWING FACTORY-FITTED HEAD UNIT MODELS:
CDR24

CDR30

PCM 2.0

PCM 2.1

If you have any of the above pictured OEM head units in your Porsche then the Dynavin N6-PS will be a plug-and-play replacement.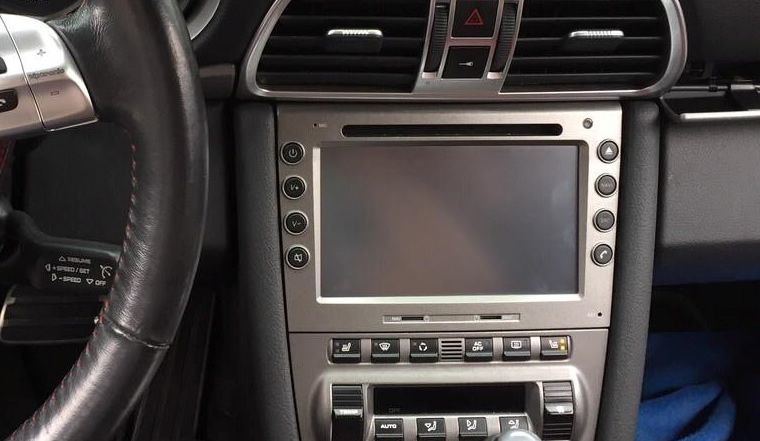 Dynavin N7 Features:
The new Dynavin N7 range has an extensive and comprehensive list of features giving the user everything they could possibly need.
Dual Radio Tuner
15 FM and 15 MW Presets
Memory: Auto Memory
Seek Mode: Local / DX Selection / Manual
RDS Functions: AF, TA, TP, PTY, NEWS, RADIO TEXT
DAB Digital Radio (N7-DAB Module with windscreen mounted antenna included).
Philips radio chip set.
Bluetooth®
Built-In Parrot Bluetooth Module with Hands Free Calling and A2DP Music Streaming
Phone Book Transfer
Phone Book Search: Alphabet Search
Eight Quick Dial Key Memory Function
Wired External Microphone Included
Redial Function
Display Call History
Connection for iPod®
Made for iPod/iPhone
USB Connection (USB Cable Included)
Compatible with iPod®: iPod touch 4G/3G/2G/1G, iPod classic, iPod with Video, iPod Nano 6G/5G/4G/3G/2G/1G, iPhone 4/4S, iPhone 3GS, iPhone 3G, iPhone 5/5S
Shuffle Capability: Songs, Albums, All
Music Control: Song Up/Down, Fast Forward/Backward, Repeat
Available Selections: Playlist, Artist, Album, Song, Podcast, Genre, Composer, Audiobook
Alphabet Search Function
Information Display: Album Art, Song (Title, Album)
Direct iPod/iPhone Control Function
CD/DVD Player
Disc Playback Compatibility: DVD Video, DVD Audio (2ch mix down), CD, CD-R, CD-RW, DVD±R/±RW, DVD-VR
Compressed Media Playback Compatibility: MPEG/AVI/RM/FLV/ASF/WMV/MP4/MKV/OGM/DivX/MP3/WMA/AAC
24bit-DAC
Zero Data Mute
Digital Servo
Sensor: Music Sensor Scan, Repeat
Playback Control: Play/Pause, Fast Forward/Backward
DVD Direct Menu Control
Shuffle Mode: One (Folder) / All (Random Play) / Random (CD Only)
USB/SD Media Connection
USB Connection (USB Cable Included)
Cover Art Display
Music Playback: MP3/AAC/WMA Playback
USB Class: Mass Storage, Play from device
Available Selections: Playlist, Artist, Album, Song, Podcast, Genre, Composer, Audiobook
Alphabet Search Function
Information Display: Album Art, Song (Title, Album)
4GB Internal Hard Drive for storing media files
Sound Tuning
Subwoofer Level Adjustment
Dyna-Bass level adjustment
Bass Level Adjustment
Bass Centre Frequency Adjustment
Bass Bandwidth Adjustment
Treble Level Adjustment
Treble Centre Frequency Adjustment
Source Tone Memory
Time Correction Adjustment
Equalizer: 5-Band Parametric Equalizer Feature
General
Power Output: 4 x 50 W High Power Amplifier
High Grade Audiophile Design:
SD Card: Video Playback
2 RCA Pre-Outs (4V) and 1 AV Output
2 Pre-Ins (Front / Rear) Ready
AUX-Input: 1 AV Input
Steering Wheel Control Ready
Auto Dimmer
Power Antenna Output
Amplifier Remote Turn-On Output
Audio Interrupt
Camera Guide Line Adjustment
Dual Zone Control
Anti-glare screen,
Faster processor
Mirror link for smart phones.

DYNAVIN N7 OPTIONAL ACCESSORIES:
Digital TV-Tuner (DVB-T) is an optional extra which will allow you to view free-to-air digital television channels on your Dynavin N7 unit. The Official Dynavin branded DVB-T (MPEG4) tuner allows you to control the TV features through the touch screen. This option is completely separate and can be added any time after installing the head unit. It is available in our store.
Reversing Camera is an optional extra which can be added to a Dynavin N7 head unit. When fitted, the Dynavin will display the view at the rear of the car on the screen automatically when the car is put in reverse. This option is completely separate and can be added any time after installing the head unit. It is available in our store.
Car Vision have been resellers of OE integration for many year helping thousands of customers over the years. We offer a WORKSHOP installation on the fitting of the unit and this can be done while you wait or simply drop off and collect later. (Appointment required).
Take advantage of our services and ensure that you get a first class professional installation undertaken by our fully qualified and experienced engineers.